Home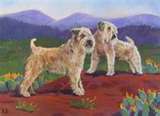 Welcome!
Thank you for visiting our website. We raise and spoil Soft Coated Wheaten Terriers. Our Wheatens are AKC registered. They are our family pets and we adore them. Wheatens make an excellent addition to a family.
We live in  Northeast Tennessee, between Knoxville and Bristol. You are welcome to visit with our puppies and their parents to see if a Wheaten is right for you.
 Please call or email us for an appointment.